Happy Monday everyone! This week could bring the hottest February UK day on record - which isn't at all worrying

What have we been up to?
We finished creating our prototype category in WordPress, but in the meantime we've been given something more polished to share with you - these designs!
Please note that some of the content is accurate, but some has just been included as filler. Bulb aren't certified vegan, for example.
Example company profile page: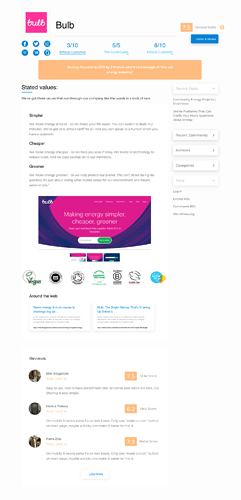 As you can see, this includes:
other awarding bodies' scores (e.g. Ethical Consumer)
the company's values, as stated on their site
any ethical certifications (e.g. Living Wage Employer)
relevant articles from trustworthy sources around the web
our own user scores and reviews
Example review submission popup: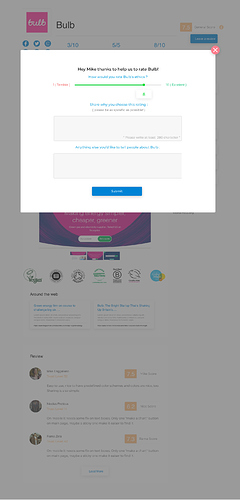 If a user clicks the "leave a review" button, they're prompted to:
rate the company's ethics on a scale of 1-10
to justify why they have chosen this rating (in more than 280 characters)
to share anything else about the company (e.g. pricing, customer service)
As I mentioned last week, only trusted users like yourselves will be able to leave reviews

What's next?
We need to get back to the designer with feedback - and we want to pass on your thoughts!
Please comment below, or drop us an email if that's easier (sarah@ethical.net).
Is there anything we've missed? Anything you reckon we should take out? Any thoughts on the design itself?
We're also putting the finishing touches to our little ethical living resources page this week, so keep your suggestions coming in the recommendations category!

@Joe @dana.olarescu @stefania @Ioana.S @raj @raulnecesar @rancea @cipdia @anato @maartenhunink @laura.rusu @san @Azadsingh @smaranda.schiopu @Viorica @o.cotiusca